According to the weekly evolution of visitor numbers (only in catalan), Barcelona's museums are on the road to recovery. In the week of 5 to 11 July, the figure rose above 27,000 visitors. This is undoubtedly still a far cry from the figure of over 64,000 visitors to those centres during the same period in 2019, but little by little, the curve is rising in a sustained way, marked here and there by peaks which correspond to open days.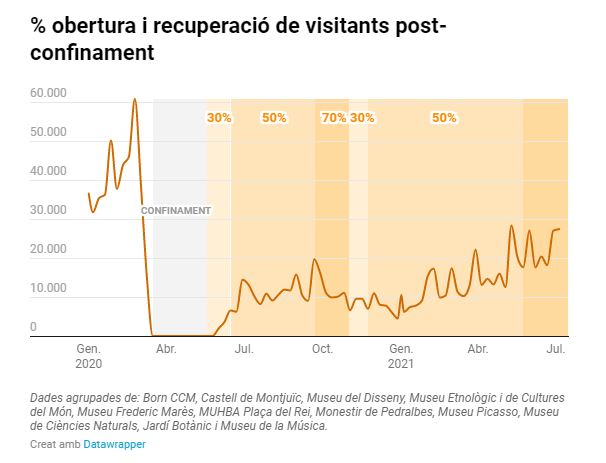 Although it is true that since May, and especially since June, the number of foreign-national visitors has risen sharply (in just one month, the number of foreign visitors rose from 5,000 to 15,000), it is also true that the oscillations in the curve can mostly be explained by open days: the local public takes full advantage of them. This was especially clear during the celebration of Museum Night, on 15 May, an extraordinary open day which led to a rise in the number of visitors that week to 28,344, the highest figure of the year so far. Nearly 16,000 of those visitors were Barcelona residents (doubling the number of city residents who had visited museums the week before). A massive response which consolidated Museum Night and showed the interest it fosters in our city.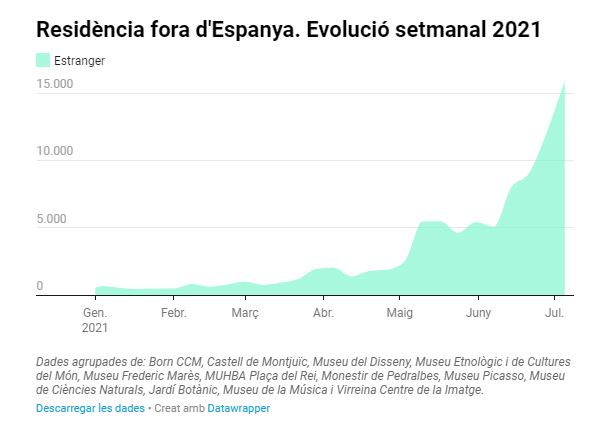 With the prospect of a fifth wave that may turn things around, it seems that the trend that started in May is being maintained for the moment: the number of foreign nationals is increasing, free admission continues to have a considerable effect on the number of visitors (especially locals) and, all in all, the financial revenue from ticket sales is increasing significantly. This is therefore good news for the city's museums: the recovery continues.